GSC on the Go®
Live life on the go?
We can keep you connected to your benefits – at any time, from anywhere.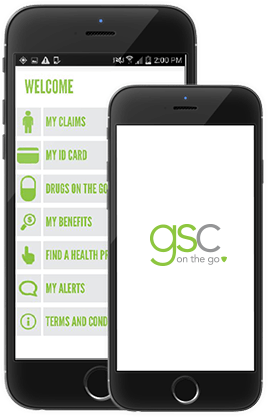 Your SureHealth plan includes access to GSC on the Go®, the free app that is designed and available exclusively for GSC customers. It gives you 24/7 mobile access to your health insurance plan, it's convenient, quick and easy to use.
With GSC on the Go, you'll get all these online services:
Submit claims directly from your smartphone or tablet – Enter your claim details or upload your claim (by simply taking a picture with your smartphone) and we'll take it from there. No need to send us anything in the mail.
Get confirmation emails. For uploaded claims, we'll let you know via email that we received your claim, saving you the extra step of checking in with us.
Get your money back faster. Confirm the mailing address we have on file to avoid payment delays. Even better, sign up for direct deposit (if you haven't already) – the most convenient way to receive your payment.
Confirm the drugs that are covered under your health insurance plan by using Drugs on the Go®.
Verify the eligibility of many other types of benefits.
Find health care providers near you.
Check your coverage amounts and the balance on your SureHealth insurance plan.
Use your electronic all-in-one benefits and travel ID card. (Your wallet will thank you.)